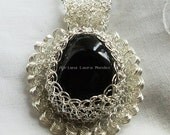 Sophisticated and elegant black obsidian gemstone pendant handmade by designer Adriana Laura Mendez.
Beautiful pendant made of wire sterling silver featuring a black obsidian gemstone from Mexico.
The pendant has an elegant rococo form around the black obsidian gemstone that is characterized by a delicate curving form.The length of the chain is 52cm and it is made of sterling silver.
Obsidian ...
Click Here to Visit My Etsy Shop!