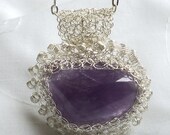 Dazzling brazilian amethyst gemstone pendant handmade by designer Adriana Laura Mendez.
Beautiful pendant made of wire sterling silver featuring an amethyst gemstone from Brazil. The pendant has an elegant rococo form around the amethyst gemstone that is characterized by a delicate curving form. The length of the chain is 62cm and it is made of sterling silver.
Amethyst has long been called the "s...
Click Here to Visit My Etsy Shop!