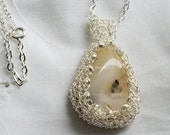 Gorgeous argentine moonstone pendant handmade by designer Adriana Laura Mendez.
Elegant pendant made of wire sterling silver featuring a moonstone from Argentina. The length of the chain is 58cm and it is made of sterling silver.
Moonstone is the stone of imagination. Its mysterious shimmering sparkle gives free range to the imagination and to creativity. It focuses psychic abilities as well as communi...
Click Here to Visit My Etsy Shop!